Today, social media is big business. While there are many types of social media influencers capitalising on this through a variety of digital platforms, micro influencers will often provide the best bang for your brand's buck. So what exactly are micro influencers, and can they help your business?
Let's start with influencers as a collective first. Generally, these are people who have built a large following on one or more social media platforms, and are regarded as experts in their field or "niche". As such, they are able to "influence" their audience – and in turn work well with businesses and brands though affiliate marketing.
The right influencer for your brand may not necessarily be the one with the most "followers". Mega influencers (1M+ followers), have their own brand as such, and as a result cost a great deal more to work with. Their engagement levels are actually also proven to be much lower thanks to a broader audience.
An example of this is a public figure like Kylie Jenner, who actually charges upwards of one million dollars for one (one!) sponsored post to her Instagram page.
While it might be easy to dismiss the marketing power of influencers as simply posting nice photos on social media, 49% of people have said that they trust recommendations made by influencers online – a figure not to turn your nose up at.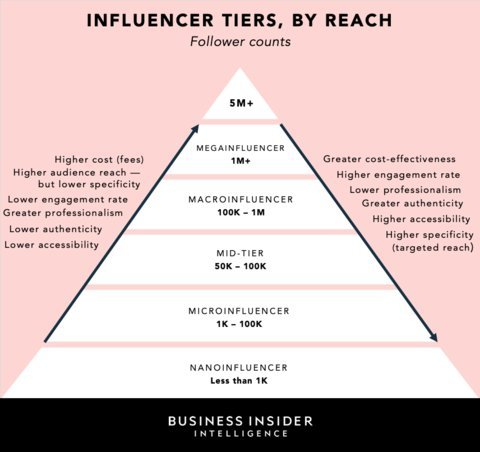 Source: Business Insider Intelligence
Okay I'm intrigued, tell me more about micro influencers.
The magic of micro influencers can be found within their engagement levels. Usually capped at a maximum of 100,000 followers, these public figures may have a lower audience, but … it's a specific, attentive and engaged audience – and often directly in line with the type of people that your brand should be connecting with.
Their "influence" comes from generally not being a celebrity or internet sensation. They are often perceived to be thought or opinion leaders within their niche, and also present themselves as real people. This in turn encourages stronger and long lasting relationships with their smaller, but more specific audience or followers.
How could a micro influencer work well with my business?
Most small to medium size businesses don't have an astronomical marketing budget, let alone one that would allow spending thousands of dollars on a handful of affiliate Instagram posts.
The obvious benefit to working with a micro influencer is that they are usually quite cost effective as a brand or business. Some will share with their followers for gifted products or service exchanges. Others operate on a "pay per post" basis and can start from just $50 a post!
Just like any working business relationship, this of course works best with a clear and concise agreement prior to commencing an influencer arrangement, purely to ensure all expectations are clear.
Where micro influencers work best is that they are relatable. With a smaller following, they often respond to comments and inboxes in a more timely manner, hence why they return such great engagement levels – they're a real person, not a celebrity.
Ultimately, let's not forget the end goal of quality over quantity.
Where to find the right micro influencer for your brand?
There's most likely thousands of micro influencers working with players in your industry already. If you're willing to invest a small amount of time, energy and research – it's relatively easy to source the best fit for your business.
Here's a few key steps in finding the right micro influencer to partner with your brand.
Know your audience. Without this vital information, you could be marketing to the wrong people, and in turn the benefits of using a micro influencer would be null and void. Consider things like age, location, gender, occupation and hobbies, all of which can be found using Google Analytics or your social media statistics.
Use your keywords. What are the common phrases used to describe or market your business online? Start researching hashtags that relate to your brand, and source key social media figures that are linked to them.
Follow industry leaders on social media. Know your competition – these guys are at the top for a reason. Review who they work with and the type of content they are producing.
By now, you will have inevitably found a shortlist of candidates that you would like to work well with – but how to approach them?
To avoid coming across as spammy or insincere, take the time to comb through the micro influencer's platform of choice – like, comment and engage on a few of their posts before you slide into their DM's.
Be professional. Don't forget that this is a business arrangement. If you have a lot of text or points to cover, don't be afraid to ask the micro influencer for their email or their preferred contact method for a proposal.
Be clear on the arrangement. If your micro influencer has agreed to potentially work with you, ensure all terms and conditions of the exchange are clear from the get go. An affiliate marketing contract is always a good idea.
Allow creative freedom. The micro influencer has their own brand too, as this has been achieved by following their own style of content production. Let them do their thing – that's what you're paying them for.
Could micro influencer affiliate marketing be for you? If you're unsure about how to navigate social media or the digital space, why not book in your free fifteen minute consultation with us at Content Hive today.