When it comes to the notable points of difference between voice search vs Google search, most people don't even realise that there are any.
In order to understand the key contrasts, one must first understand the basics of how they both operate. To be fair, in the digital era – both are common occurrences in our day to day lives, often without us realising it. So, what are the differences?
What Is Voice Search And Google Search?
In a matter of seconds, anything we want in the world is within arm's reach via the global search platform Google. Established in 1997, we type in anything and everything from "Brisbane florists" to "Brad Pitt's girlfriends" – and the answers are indexed from billions of web pages to deliver results. As of June 2019, Google dominates all other web-based search engines with, over 92.62% of the market.
As technology has only gotten bigger and better, it's inevitable that the ways in which we use it become more personalised. Devices with artificial intelligence capabilities are now common in our homes, and include smartphones, digital home assistants, tablets and even our televisions. These all include built in artificial intelligence components like Google Home or Assistant, Apple Siri, Amazon Alexa and Microsoft Cortana – with the voice function crafted to make you feel like you're having a normal conversation with another human being.
Using your built-in AI on these devices to solve particular questions or queries is growing rapidly in popularity. Let's face it – we're only getting busier, and convenience is one of the most attractive features when investing in pretty much anything these days. Who doesn't multitask when they have the opportunity to?
When using voice search as opposed to Google search, the primary point of difference is the types of queries we're asking. Voice search is usually long form questions, as opposed to the traditional one or two word topic searches that we ask Google. While most businesses with a marketing plan are familiar with the principles of SEO in order to rank on Google, the real question is, are they also factoring in voice search?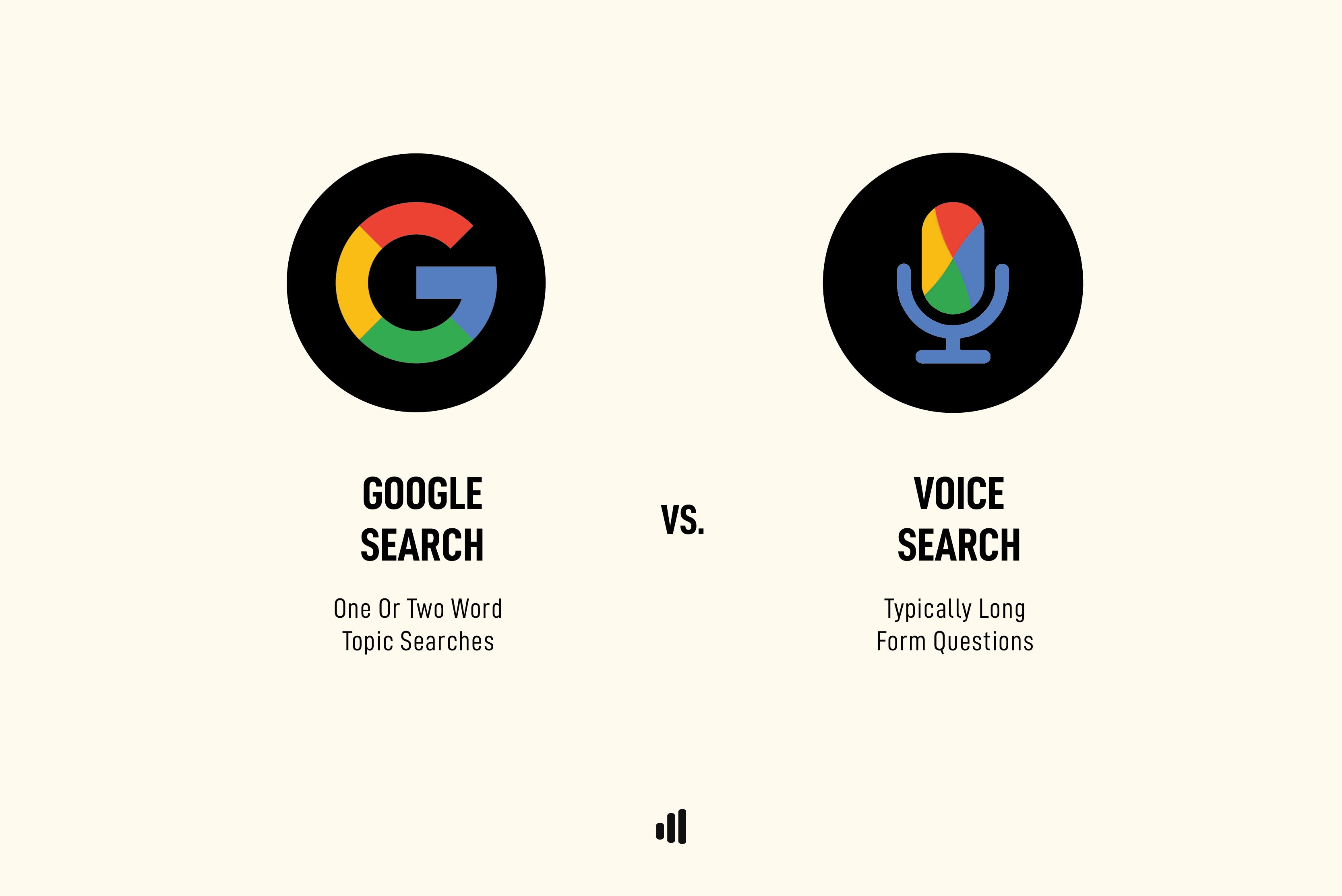 How To Optimise Your Content For Voice Search
When carefully crafting your website and its content to make it "Google friendly" – usually it requires including back links, information rich home pages, and regular blog updates using keywords so that people can find you.
While most of these principles still apply to navigating voice search, the latter isn't a fad and isn't going away anytime soon – so make sure you don't ignore the future of SEO. If you're not sure where to start for optimising your website and content to make it voice search friendly, check out a few of our key insights and recommendations below.
Target Long Form Questions – One of the primary differences between traditional Google searches and voice searches is what the audience is asking – most phrases tend to start with "how", "what" and "best." A common example would be Googling "wedding dress Brisbane" which then morphs into "where can I buy a wedding dress in Brisbane" through voice search. Do your keyword research.
Go Local – In the United States, over 50% of voice search users use the platform to find out information about the local businesses operating near where they live. This can include anything and everything from individual products, phone numbers, recommendations, store locations to directions, so make sure that you're not forgetting about the many potential clients already in your backyard.
Write Naturally – Optimising for voice search rankings is not the time to exercise formal language – not only will it stop you from ranking, but you also risk alienating your audiences. While keywords are important factors, write like you are talking with your audience instead of at them. By offering simple and straightforward explanations, you're enabling the SEO crawlers to pick up key information snippets for distribution.
Think Mobile – Voice searches go hand in hand with smartphones and mobile devices. A clean sitemap makes navigation, but an article's "readability" is often what will get you over the line. Avoid long form paragraphs of text that require more attention, and replace with shorter structures, images, infographics and bullet points. Give your audiences the information they're chasing quickly and make it easy to absorb.
Help, I Don't Know How To Produce Content!
For content that can be deployed for both voice search and Google search, text that has quality, consistency and is on brand, is paramount. Unfortunately, this can also take time, effort, experience and resources – and it's totally okay if you know that you can't quite commit to that. Thankfully, investing in a solid content marketing strategy has never been easier.
Here at Content Hive, we specialise in getting brands buzzing online with digital marketing services done for you. Book in your free discovery call with us today, and take the first step in developing a digital marketing strategy that actually gets results.